BPOU Community Events Archive
Here you'll find a collection of images from various events that the Black Physicians of Utah have organized or participated in over the years. From health fairs to community outreach programs, our photos capture the spirit of our organization's commitment to improving healthcare in Utah's Black communities. Scroll through the images to get a sense of the impact we've made over time, and to see the smiling faces of our dedicated volunteers and participants. We hope these pictures inspire you to join us in our mission to promote health equity and improve healthcare access for all.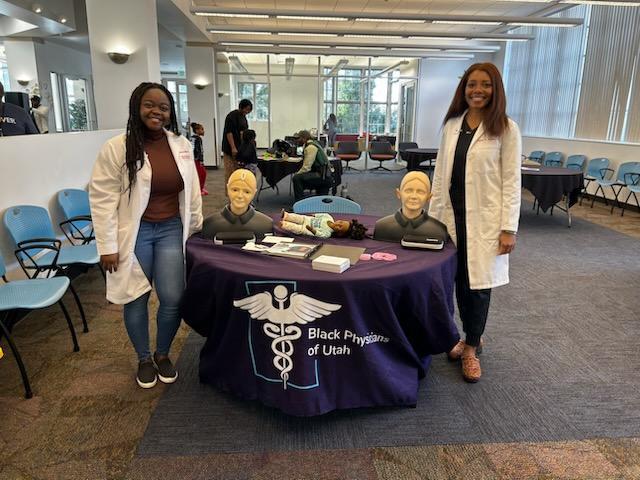 Dr. Afaf and Aziz Osman at the BHM Jazz Game
BPOU at the CurlyMe "Change with Her" Event
BPOU at the BSU Highschool Conference
MLK Day Remembrance March
BPOU Monthly Service Project at Salt Lake Rescue Mission
Doc's Night Out at Gourmandise
BPOU Serves the Local Community
Radiation Oncology Specialty Night
BPOU at Calvary Baptist Church
Docs Night Out at Salt and Olive
BPOU Clinical Research Experience Day
BPOU at the Afro Utah Festival
Thank you everyone for supporting BPOU at the Afro-Utah Festival as we recruited mentees and increased awareness of BPOU being a trusted resource for health information.
Black Physicians of Utah Attend the Local Health and Wellness Fair
BPOU was able to show local support in the community as well as bring awareness about our organization. Dr. Jones and Ayan Nor were able to discuss general health information, answer COVID-19 questions and help represent BPOU.
The Black Physicians of Utah Kickoff Event
An opportunity for Black physicians and our new mentees to mix and mingle with each other. The new members of BPOU are varied in specialty from Family Medicine to Heart Transplant Cardiology. More events to follow soon as we build our presence in the community!